It's been a while, so I thought I'd play catch-up this morning with some relevant postings from Don McCanne and Joe Paduda.
First up is an article from The New York Times of December 3rd by Margot Sanger-Katz. The article, "Why the Less Disruptive Health Care Option Could Be Plenty Disruptive" explains that moderate Democratic plans for health care that does not fall in line with those proposed by Bernie Sanders and Elizabeth Warren can be as disruptive as not implementing Medicare for All.
Sanger-Katz writes: "The single-payer health plans proposed by Senators Bernie Sanders and Elizabeth Warren are often assailed as being too disruptive. A government plan for everyone, the argument goes, would mean that tens of millions of Americans would have to give up health insurance they like.
Democratic presidential candidates with more moderate brands have their own proposal: a "public option" that would preserve the current private insurance market, while giving people the opportunity to choose government insurance.
A public option would be less disruptive than a plan that instantly eliminated private insurance. But a public option that is inexpensive and attractive could shake up the private market and also wind up erasing some current insurance arrangements. Conversely, a public option that is expensive and unattractive might not do much good at all.
A public option would cover a smaller population at first, and might have to negotiate with hospitals for good deals, just as other insurance companies do. In those circumstances, several economists said, the public option might look a lot like existing insurance: pretty expensive, and covering a limited set of doctors and hospitals."
Next, Health Affairs published an article by Tara Straw, also on December 3rd, that examines how low-income workers fare poorly under the ACA. According to Ms. Straw, "The Affordable Care Act (ACA) extended health coverage to more than 20 million people and strengthened consumer protections for millions more, but it didn't dramatically change employer-sponsored coverage, the primary source of private health insurance. Employer coverage often works well, allowing many people to enroll in comprehensive health benefits using employer contributions that make premiums affordable. But compared to middle and upper-income employees, low-income workers are often offered less robust coverage, get less employer help with their premiums, and must pay a greater share of their income toward health care costs. Among workers with job-based coverage, those with income below 200 percent of the poverty line spend 14 percent of their income on premiums and out-of-pocket costs, on average. That's far more than people between 200 and 400 percent of poverty, who spend 7.9 percent of their income, and people over 400 percent of poverty, who spend only 4.5 percent.
Some low-income workers are actually worse off with an offer of employer-sponsored coverage than without one because it locks them out of premium tax credit (PTC) eligibility in the ACA's health insurance Marketplaces, a prohibition known as the "firewall."
Under the ACA, the worker's share of the employee-only premium must not exceed 9.86 percent of family income (in 2019), irrespective of the cost of family coverage, and the plan must cover at least 60 percent of expected medical costs. When an employer's coverage offer meets that low federal bar, the ACA's firewall provision makes low-income workers and their family members ineligible to receive a PTC for Marketplace coverage. However, employer coverage that meets the ACA standard may be more expensive and less comprehensive than Marketplace coverage. For example, under the ACA standard, a worker making $18,000 (about 150 percent of poverty) could pay up to nearly $1,800 toward premiums for single coverage in an employer plan. But if allowed to purchase a benchmark Marketplace plan, the worker's expected contribution, net of the PTC, would be less than $750 (4.15 percent of income in 2019).
Again from Health Affairs, comes the following on national health spending in 2018:
"Abstract
US health care spending increased 4.6 percent to reach $3.6 trillion in 2018, a faster growth rate than the rate of 4.2 percent in 2017 but the same rate as in 2016. The share of the economy devoted to health care spending declined to 17.7 percent in 2018, compared to 17.9 percent in 2017. The 0.4-percentage-point acceleration in overall growth in 2018 was driven by faster growth in both private health insurance and Medicare, which were influenced by the reinstatement of the health insurance tax. For personal health care spending (which accounted for 84 percent of national health care spending), growth in 2018 remained unchanged from 2017 at 4.1 percent. The total number of uninsured people increased by 1.0 million for the second year in a row, to reach 30.7 million in 2018."
Additionally, CMS published the National Health Expenditure Fact Sheet (NHE).
Next, Christopher Cai and James Kahn wrote in Health Affairs that Medicare for All would improve hospital financing. According to Cai and Kahn, "Hospitals account for more than one trillion dollars of health expenditures annually, and analysts have raised concerns that a shift to single payer, or Medicare for All, might adversely affect hospital care. A common narrative has emerged in the popular press and in medical journals, suggesting that Medicare for All would decrease reimbursements and force hospitals, particularly rural hospitals, to cut back on much needed services or even close altogether. These concerns have received increased attention with Elizabeth Warren's recently released financial proposal for Medicare for All. Understandably, these points have raised concern about the feasibility of Medicare for All. But is this narrative evidence based?"
Their conclusion states that "Under single payer, patients could choose any doctor and hospital, everyone would be insured, and bureaucratic burdens would be greatly diminished. Furthermore, under global budgeting, payment levels would be monitored and adjusted over time by a panel of health care experts."
And lastly, here is a post from Joe Paduda of a Gallop poll that says Americans can't afford healthcare, According to Joe, Gallup reported that quarter of Americans have put off treatment for serious medical conditions because they can't afford it.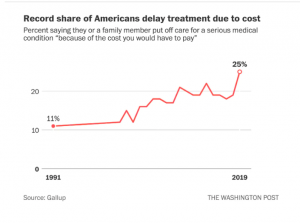 These are the reasons they can't afford it:
US physicians make twice what docs in other countries do
Drug costs are much higher here than elsewhere
Administrative costs are twice what they are in other developed countries.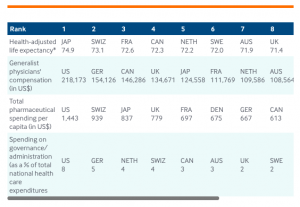 Physician incomes by specialty exceed $400,000. No wonder Americans can't afford health care. The doctors are making more than they are.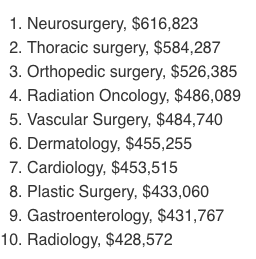 So, the future of health care as we know it looks very bleak from these and other experts on the matter. It would be criminal for any rational person to not explore the Medicare for All/ single Payer option, rather than to continue to prop up a market-based system that is out of control and getting worse every year.
But so long as many Americans claim they like their private health insurance, whether it is from their employer or they purchase it directly from an insurance carrier, the fact remains that no other solution will fix the problems other than Medicare for All.
All Americans need to realize this before it is too late.